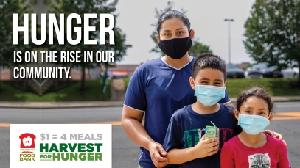 State & Federal Communications
We've committed to be supporters of Harvest for Hunger.
The coronavirus pandemic presents an uprecedented challenge to our community, to our nation, and to the world. There are those in our community who are most vulerable during this time and who will face the risk of going hungry. What can we do?

Monetary donations will make the biggest impact. Please consider joining our team by signing up or by making a donation. For every $1 donation received, the Akron-Canton Regional Foodbank can provide 4 nutritious meals to individuals in our community through their partnership with area hunger centers and programs.

Hunger affects children, seniors, the disabled and even working adults. In our community, as many as 263,200 different individuals rely on the Foodbank for emergency food assistance each year. Many have to face tough decisions like whether to pay their heating bills or buy groceries. They turn to the Foodbank and its network of partners in their time of need.

Thank you for visiting our fundraising page and for supporting Harvest for Hunger.


View More

Joseph May
$0

Team Honor Roll
State and Federal Communications, Inc.
$325
Top Donors
Helen May
Elizabeth Bartz
State and Federal Communications, Inc.
Mr. Dave McPeek
Anonymous